Post by Hurricane on Dec 12, 2009 0:31:41 GMT -5
Yeah, I've not put one up for a long time, for various reasons. Gavscsa originally told me he was going to produce one, but it looks as if he doesn't post here too much. Other reasons are that I am lazy...

This one is for the months of September-December, because it's been so long. From now I will do one monthly, so get working, produce your best stuff and see if you can crack the charts!
#11
TC's Chadam
A good effort here as TC produced his best micro to date. Looks pretty nice overall, but a bit bland and flat in some areas.
#10
Hurricane's Gregory Helms
My second micro since my return, so to speak. I felt it's one of my best resemblences in awhile and it is a pretty good micro. A bit plain though, which is why it's down the bottom.
#9
Alex's Rick (Splatterhouse)
Great micro as usual. It would probably be higher on the list, but he has two other micros making an appearance.
#8
Monja's Criss Angel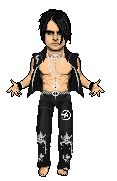 Great micro here that shows just how much he has improved in a short time. Lovely pose, very original and superior shading to his other work. Great effort.
#7
The X Factor's Earthworm Jim
Strong micro here, as usual. Everything looks good, shaping is fine and the best incarnation of Ol' Jimmy Yet.
#6
Eclipse's Ghost of Christmas Yet To Come
Very nice micro here, with good shading. Also pretty original, as it's something seldom seen. Good work.
#5
CMC's Jushin Liger

A good micro from CMC before he took a leave. It beat me at a PPV and deserved to. A good effort and a good micro.
#4
MJH's Goldust
Amazing micro here that shows MJH's style well. Cartoony, yet realistic. Best Goldust micro yet.
#3
Alex's Buzz Lightyear
Absolutely perfect micro. Style is great, shading is fantastic and shaping is amazing too.
#2
The X Factor's Link
Another great micro from TXF. Shading/shaping is all great and I have a soft spot for Link micros, as they almost always end up great.
#1
Alex's Master Chief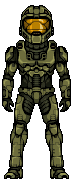 AMAZING micro here. Style is perfect and the shading is simply perfect as well. My favourite of all Alex's micros, which says A LOT. With three great entries, it shows exactly why he was inducted into the Micro Hall of Fame!