Post by Diablo. on Jan 8, 2011 13:54:11 GMT -5
Here we are. Over forty unique micros across eight matches on the grandest spectacular of them all! It's MicroFest, and it's time to showcase the entries and decide the victors. Without further adure... welcome to MicroFest!
**********
Match One
Stip: Anyone who appeared in the WrestleMania XXVI Pre-Show Battle Royale
vs.
(Kie-Arsenal entered Chris Masters, NGW entered Vladmir Koslov and Squall Leonheart did not submit)
Match Two
Stip: Any WWE wrestler in two of their attires
vs.
vs.
vs.
vs.
(Ermolli entered Justin Gabriel, Haasamaniac entered Doink the Clown, NGW entered Rey Mysterio, Diablo entered Jeff Hardy and Jake666 entered CM Punk)
Match Three
Stipulation: Any wrestler who has won the Royal Rumble and gone on to win a World Title at WrestleMania
vs.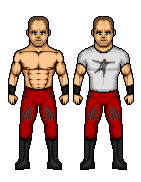 (Ermolli entered the Black/Blue Chris Benoit and Haasamaniac entered the Red Chris Benoit)
Match Four
Stipulation: Any member of a tag team that has featured in a WWE Tag Team Championship Match at WrestleMania
vs.
(Cobra entered Chris Masters and Famous entered Edge)
Match Five
Stipulation: Any tag team champions who have gone on to face each other at WrestleMania (e.g Edge and Jericho, Undertaker and Kane, Miz and Morrison etc, Bret and Owen etc.)
vs.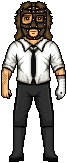 (Jake666 & eMasson entered the Hardy Boyz and Diablo and AA entered The Rock'N'Sock Connection)
Match Six
Stip: Any WWE Legend or Alumini
Note: This is open ONLY to MWE Alumini.
vs.
vs.
(MRN entered Cactus Jack, StarDoctor entered Chris Jericho and Status entered MVP)
Match Seven
Stip: Anyone who has headlined a WrestleMania or Starrcade
Note: The four micros do NOT have to be related (e.g. they could be Hogan, Cena, Bret Hart and Ric Flair)

vs.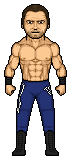 (MWE: Cobra entered Goldberg, Diablo entered Sting, AA entered Undertaker and Jake666 entered Triple H)
(MicroStop: Hurricane entered Big Show, UKsix entered Randy Savage, SPZ entered Undertaker and AC entered Chris Benoit)
MAIN EVENT
Stage One
Anyone who has been in a WWE, WCW or World Heavyweight Championship match at WrestleMania or Starrcade

vs.
vs.
(AA entered Randy Savage, Diablo entered front-facing Chris Jericho and eMasson entered back-facing Chris Jericho)
Stage Two
Any Hall of Famer who has appeared at WrestleMania as a Hall of Famer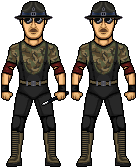 vs.
vs.
(AA entered Sgt. Slaughter, Diablo entered Ricky Steamboat and eMasson entered Bob Orton)
Stage Three
Anyone who has lost to the Undertaker at WrestleMania

vs.
vs.
(AA entered Black Tights Edge, Diablo entered Purple/Grey Camo Edge and eMasson entered Jimmy Snuka)
Note: Each stipulation is a "sub-match" and whoever wins the most "sub-matches" wins. In case of a tie, whoever has the most overall votes wins.
********
Get voting on the grandest spectacular in MWE history, people!
[/center]