Post by Diablo. on Mar 8, 2011 7:07:47 GMT -5
#7 - The "Diablo" Edition
Hey guys. Hurricane has asked me to compile what I believe are the best micros as of late (
because he is a lazy douche
). So I've taken this opportunity to showcase what I believe is the best work from King of the Ring and beyond, just before the Micro Rumble (which will be showcased in Micro Markdown #8).
#16 eMasson's Lindsay Buckingham
Good work here, Steve! You've captured him well into your style, the shading is a big step up and the guitar looks fantastic. Keep it up, man.
#15 Ermolli's Ultimate Warrior
The markdown of Warrior's, it seems. Love how you just keep on improving, and this is a terrific example of it. I really look forward to seeing you keep blossoming.
#14 King of King's Scott Hall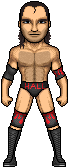 Another step up for you here, King of Kings! Shading is great, designs are great, a good job here by any standards.
#13 Uksix's Ultimo Dragon
An outstanding job here, you've shaded it well and the mask looks great. The boots seem a bit dull, but overall it's a vibrant micro. Well done.
#12 AVCore's Sting
Not a bad job at all! The designs look great, the facepaint looks great and the padding looks even greater! You've captured Sting really well here.
#11 Hurricane's Ultimate Warrior
One of the best micro's I've seen in this style, great resemblence, great vibrant colours and a great look about it overall. Only issue is the mouth should probably be black, but everything else is enough to really make this an awesome micro.
#10 Diablo's Cylon
This micro is one of my favourites to date, and a big improvement for me. I like it overall, I just wish I hadn't have made the shine on the metal so soft. Still, I'm happy with it.
#9 MJH's CM Punk
Wow, you've really captured the resemblence here. You seem to have a way about CM Punk micros, each one just gets better and better, and this one is terrific. (But bro, where are the chest tats?

)
#8 CMC's Corey Taylor
Terrific work as always, CMC. The mask looks immense, love it. The shading on the outfit looks great, too. Good job.
#7 Hurricane's Jared Leto
The styling of shading on this is immaculate, man! Love the contrasting shades, the chains and everything. The hair looks great, nothing to really criticize here. Great work.
#6 MJH's Ultimate Warrior
Terrific job here, man! Great resemblence, and your usual style of micros especially complimented this one. Love everything about it, terrific job.
#5 Diablo's Sackboy
First of all, sorry to everyone who I've put below this, don't want to be a dick or anything. But in my opinion, this micro is one of, if not my best to date (excluding the Rumble and beyond) and really marked a new turning point in my style and quality of my micros. Plus, everyone seemed to like it so yeah.
#4 Hurricane's Boba Fett
Bloody hell, this is one of the best Boba Fett's I've ever seen, and you've done a really great job in capturing the style of Boba Fett, especially in the ageing of his armour and such. Terrific job, Josh.
#3 Alex's The Comedian
Wow. Terrific work as always, Alex, really putting us to shame like this. The resemblence and shading are perfect as always, and the gun is a really awesome touch.
#2 CMC's Pennywise
I had
NO
chance when you entered this micro. The detailing, resemblence and shading is just spectacular. Only issue... he needs to look a tad more evil. But still an awesome piece of work, CMC.
#1 Alex's Ginyu
Seriously Alex? Why must you be so f**king amazing? It's unfair and all that! But yeah, this is just fantastic there is no concievable way to flaw this micro. Epic work as usual.
Alright folks, so that's a wrap of the Diablo edition of Micro Markdown. Sorry if your micro didn't make it on, there were a few more names but the ones I got were already pushing the list to it's limits, so keep it up guys! Thanks.